Last year through donations we were able to cover 1/3 of the event which ensured most of the performers were paid. We would like to keep presenting these annual events but need your support. A free-to-the-public event like this costs about $15,000. Please consider making a donation through one of the ways below. We are also interested in sponsors for this or future events!
If you would like to make a donation to help cover expenses of July 15 2022 Burroak Roots and future Burroak events we have collaborated with the City of Webster Groves so you can also give through the Public Arts Fund with the City of Webster Groves. Options below. Please notate Burroak Roots!
GIVE VIA THE PUBLIC ARTS FUND WITH THE CITY OF WEBSTER GROVES
The City can take payments for the Public Art Fund the following ways –
(Please be advised, donations made to the City are NOT tax deductible and should not be construed as charitable donations.)
Checks
Make checks payable to:
City of Webster Groves
Attn: Public Art Fund
4 E Lockwood Ave
Webster Groves, MO 63119
(PUT BURROAKS ROOTS IN MEMO)
Pay online at: https://secure.cpteller.com/terminal/portal/?op=1enL1l2Zb8bF (PLEASE MAKE A NOTE IN THE COMMENTS YOU ARE DONATING TO BURROAK ROOTS)
GIVE TO BURROAK ROOTS DIRECTLY
Venmo @parksarts (QR below).
Paypal margo@ parksarts.com
Check made payable to Parks Arts • 501 Oak St, St Louis, MO 63119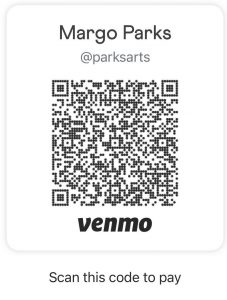 THANK YOU FOR YOUR SUPPORT!
Andrew Schwartz
Kim Funcik
Laura Chao
Melody Zlatikin
Michelle & Kevin Vietmeier
Kristine & Paul Wentzien
Marlene McCarthy
Julie Campbell
Lynn Loudermilk
Emily Shepherd
Emma Klues
Ahrehns
Rory Beelek
Karen Bruntrager
Christopher Ave
Benjamin & Nicolas Yates
HUGE THANK YOU TO OUR VOLUNTEERS AND PRODUCTION TEAM:
The Yates (Tracy, Dave, Benjamin & Nicolas)
Dane Williams
Kathie & Bill Calhoun
Patrick Murphy
Mayor Laura Arnold
Shari Gourde
K Wentzien
Paul, Matilda & Susan Wentzien
Arch City AV
Klance Productions
Jonathon Laufensweiler
Dane Williams
The Ahrens (Joelle, Chandler, Sen, and Mira)
Lizz James
Walter & Margo Parks
Our amazing performers
and countless others who helped load in and out gear!